Main content starts here, tab to start navigating
Join the Beer Club!
Join the TALEA Beer Club to get our latest releases and access to member-only perks!
Your $50 monthly membership includes exclusive benefits redeemable from our NYC taprooms.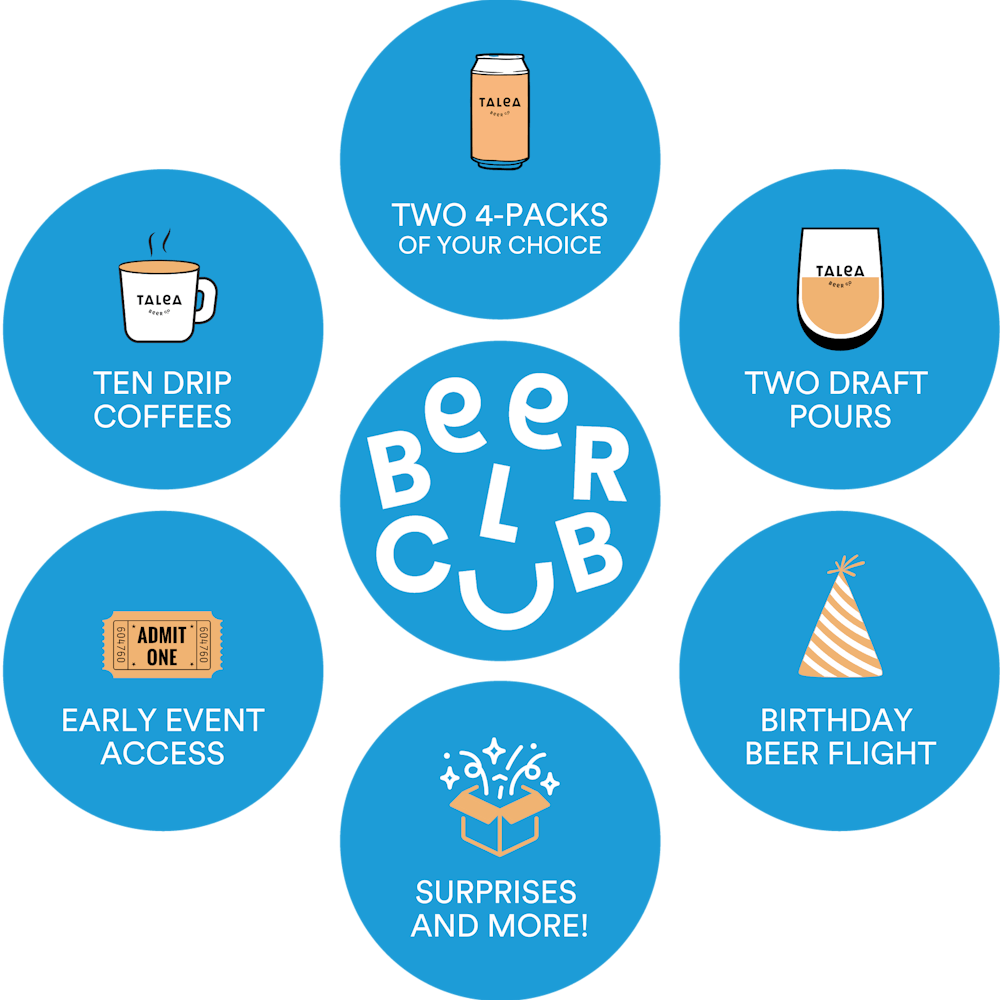 HOW TO JOIN
Step 1: Sign up or log in to access your TALEA Rewards account.
Step 2: In the customer portal, click the orange Beer Club Membership button.
Step 3: Purchase your monthly subscription.
Step 4: Redeem perks by checking in with our taproom teams.
FAQ
What's included in my membership?
Your $50 monthly membership includes:
- Two 4-packs of your choice
- Two draft pours (one for you, one for a friend)
- Ten drip coffees, to stay or to go
- Custom birthday flight, redeemable any time during your birthday month
- Access to special taproom events and releases
- Surprises and more!
How and where do I redeem my perks?
You can start redeeming your perks at our Williamsburg and Cobble Hill taprooms as soon as you sign up!
To redeem, check in with our taproom team with your phone number or wallet pass.
Do my perks expire?
Yes, Beer Club monthly perks expire after 30 days.


Is this a recurring membership?
Beer Club subscriptions are $50/month and charged via Stripe every 30 days.

How do I cancel my membership?
Log in to the TALEA Rewards portal and select the orange Beer Club Membership button to manage your subscription.
You can rejoin at any time by following the same steps above and purchasing a monthly subscription.
Have more questions? Shoot us an email at taproom@taleabeer.com. Cheers!