Main content starts here, tab to start navigating
Join TALEA Rewards!
Join TALEA Rewards and earn points with every taproom visit. Plus, get exclusive perks on beers, early access to new releases, and more.
How It Works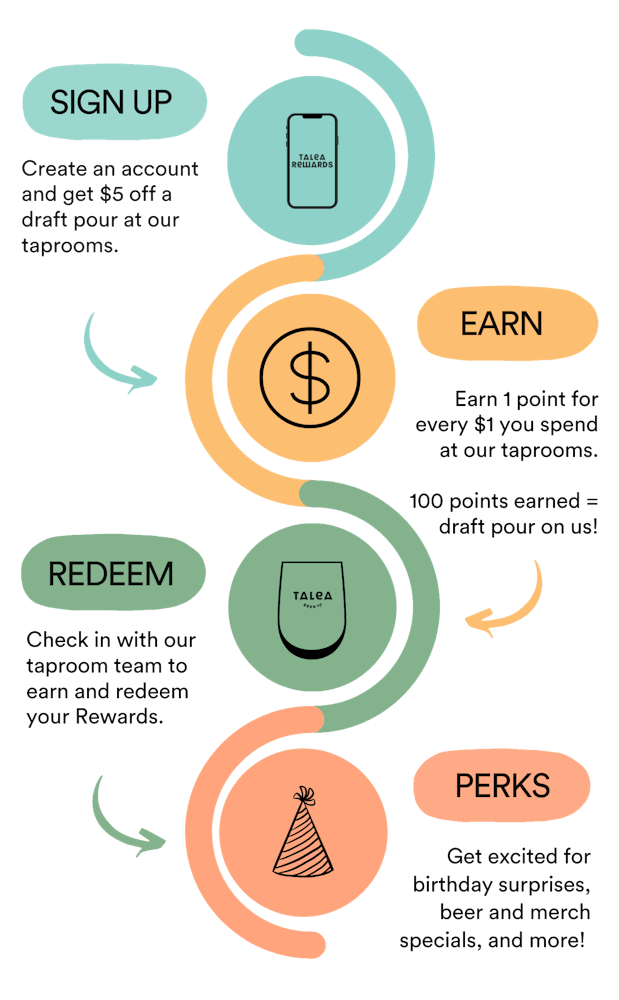 FAQ
How do I sign up for TALEA Rewards?
You can sign up in person at our taprooms by scanning the QR codes located at checkout or asking a member of our Beer Crew when you close out your tab. You can also sign up now here!
How does it work?
Get $5 off a draft pour just for signing up! Then, for every $1 you spend at any of our taprooms, you'll earn 1 point. Earn 100 points and get a draft pour on us, redeemable at any of our taprooms!
How do I check my points?
You can login to your TALEA Rewards account here to check your points.
How and where do I redeem my points?
When you close out your tab at any of our taprooms, let our Beer Crew know that you're a TALEA Rewards member. They can look you up by your phone number and help you redeem your points.
For an even easier process, add your TALEA Rewards pass to the wallet app on your smartphone. Then you're just a scan away from redeeming your points at our taprooms!
Do my points expire?
Nope! Once you've earned points, they're yours to use whenever you want. However, your $5 off sign-up gift and birthday gifts expire after 30 days.
Have more questions?
Shoot us an email at taproom@taleabeer.com!