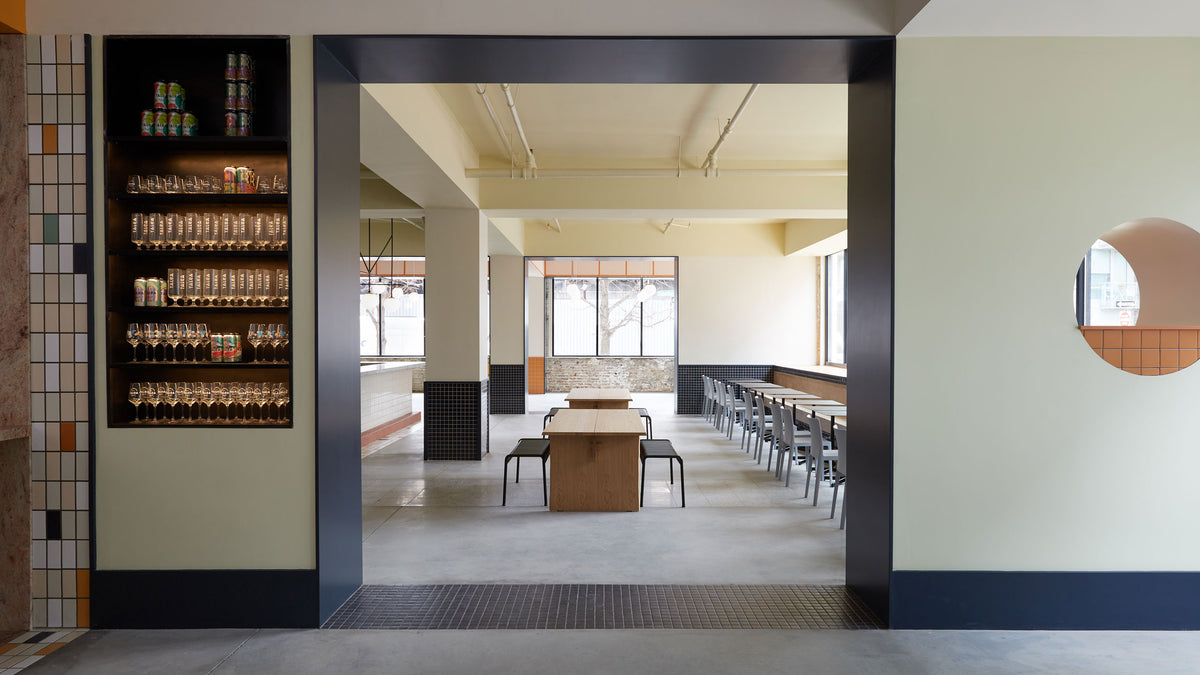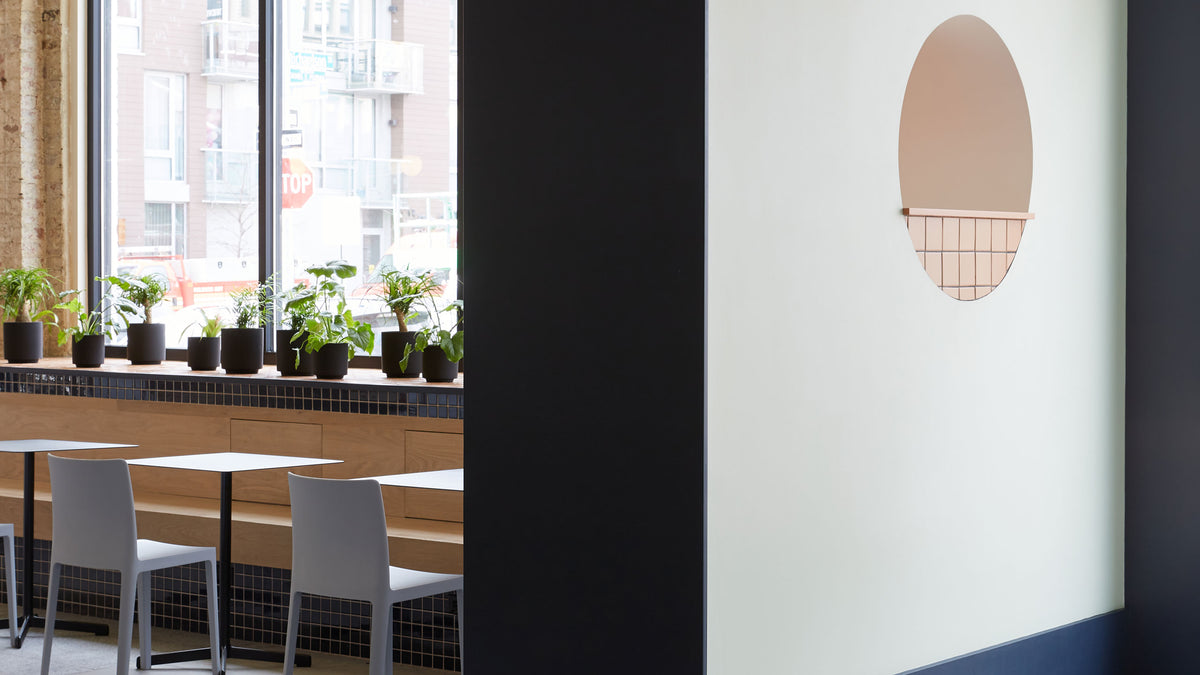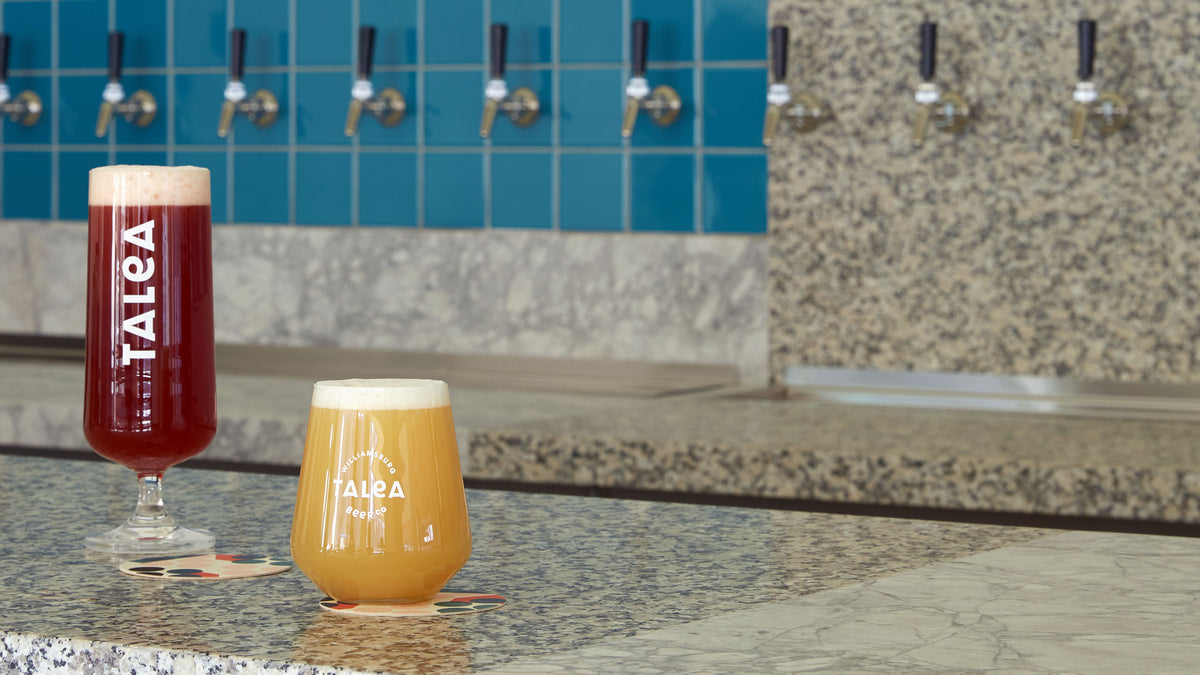 Williamsburg Taproom
Open 7 days
10am-10pm
87 Richardson Street,
Brooklyn, NY 11211
Open for morning coffee and tea. Beer, cocktails, wine, and snacks with indoor and outdoor seating. Draft and canned beer to go!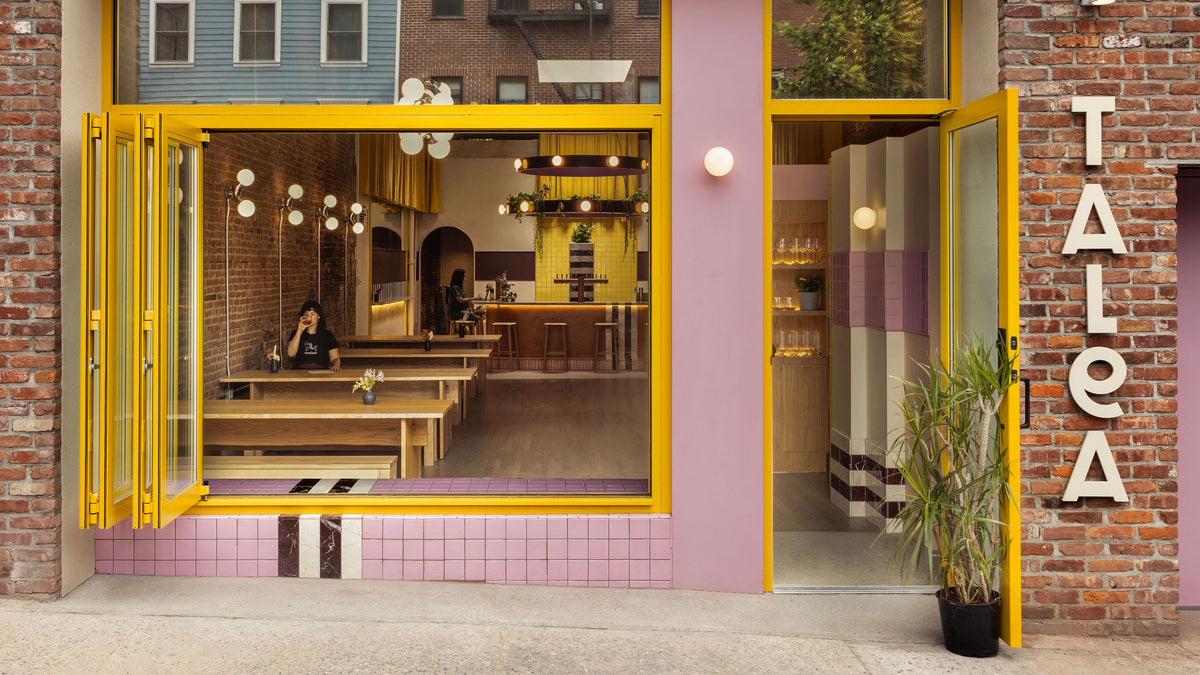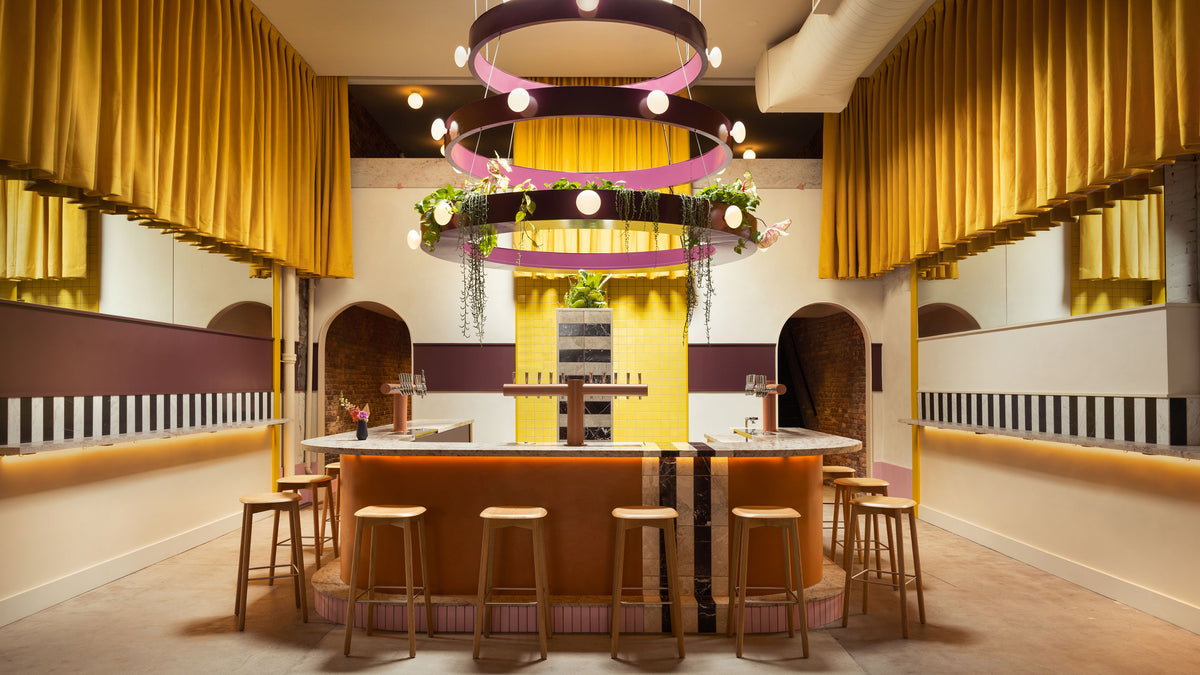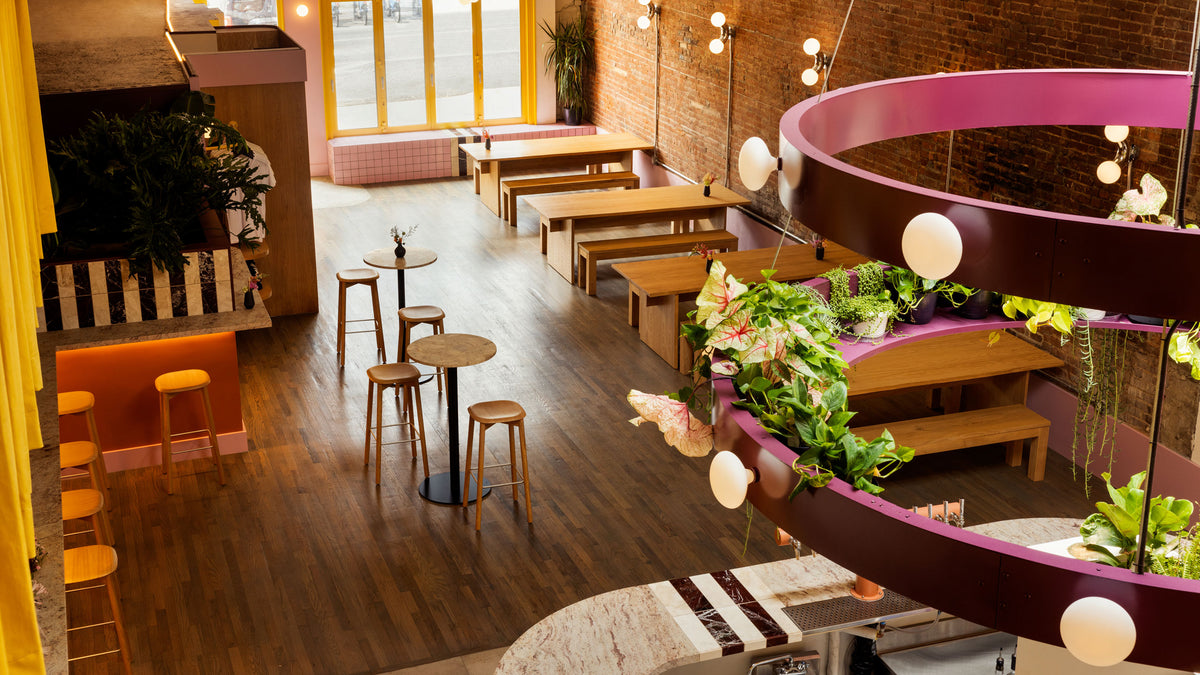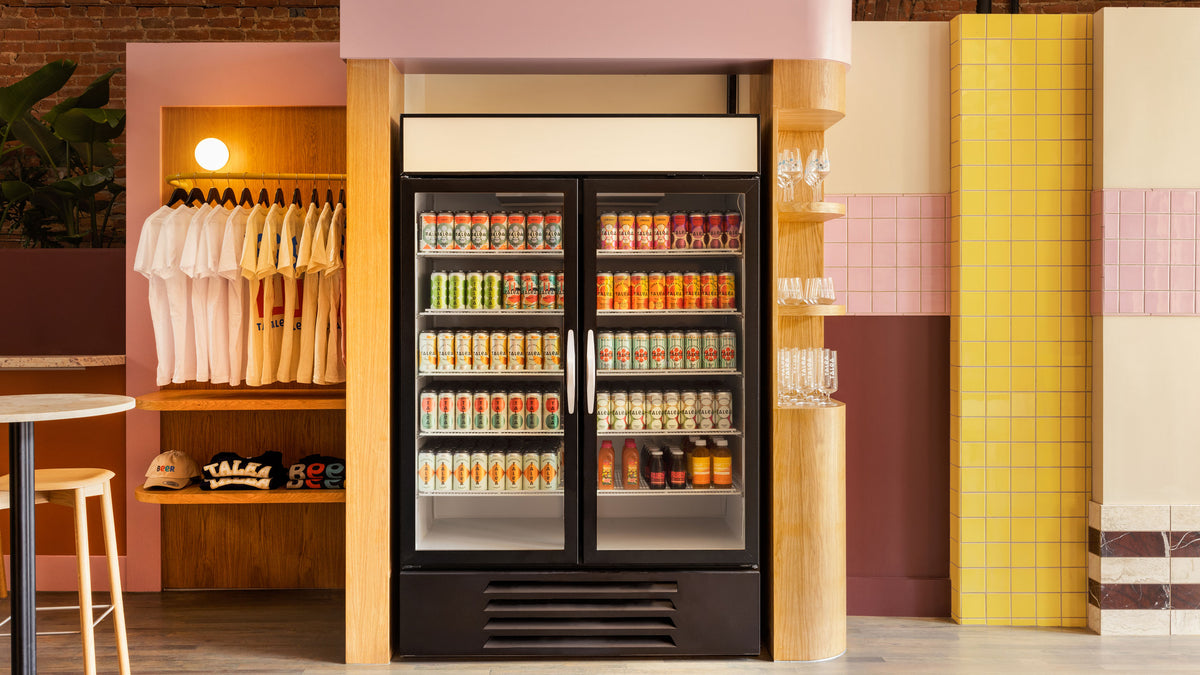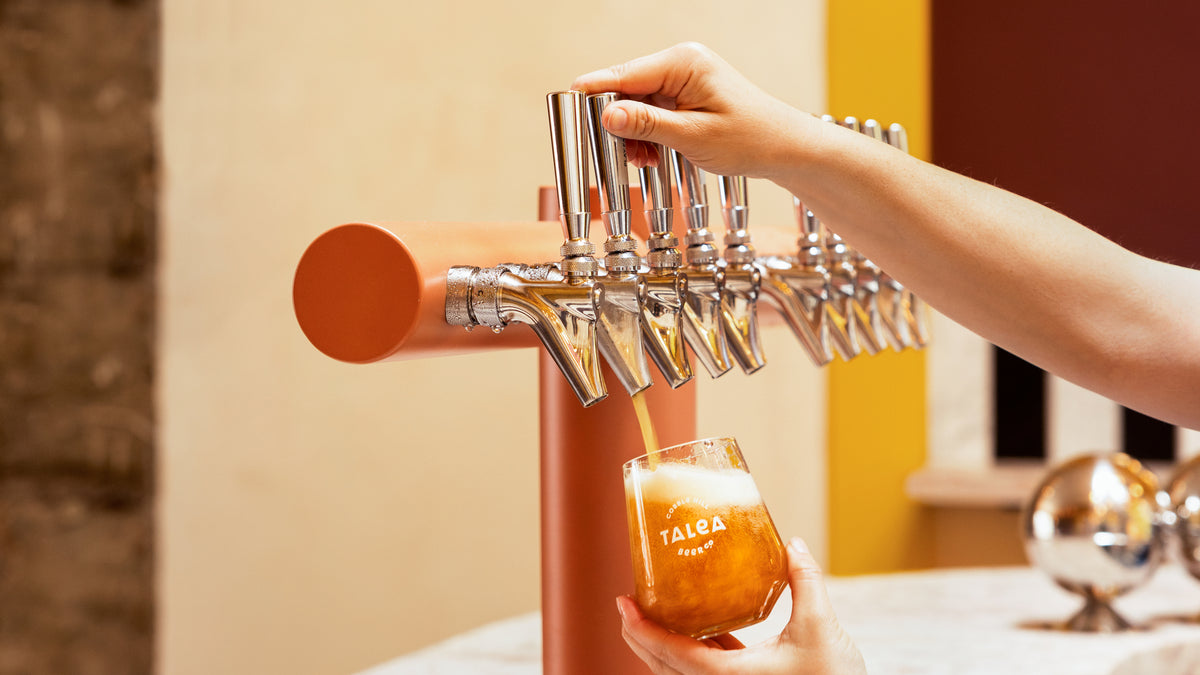 Cobble Hill Taproom
Sunday - Thursday
10am - 10pm

Friday - Saturday
10am - 12am
61 Bergen Street,
Brooklyn, NY 11201
TALEA Cobble Hill is open for coffee and tea plus beer, cocktails, wine, and snacks. Indoor and outdoor seating are available. Draft and canned beer to go!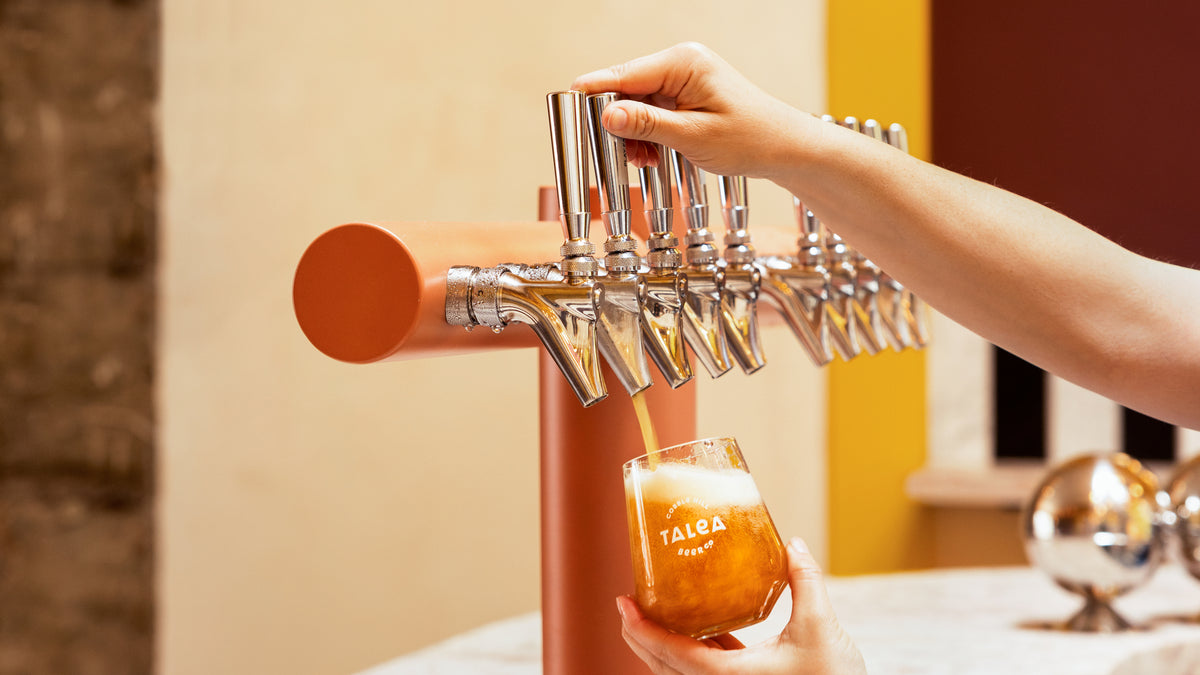 West Village taproom coming soon!
Menus
Williamsburg - Draft
DRAFT MENU
Updated September 15th. Draft beers are highly rotational, please check back often for updates.
SOUR BEERS
BERRY POMEGRANATE SPLASH • 5.0%
Sour Ale • Grape soda, Nerds rope, compote; brewed with raspberry, blackberry, pomegranate
BODEGOSE • 5.2%
Gose • Red Gatorade, cherry Icee, spicy pink peppercorn; brewed with cherry, mango, pink peppercorn
TUTTI FRUTTI CRUSH • 5.2%
Gose • Hawaiian Punch, pink Smarties, pineapple snow cone; brewed with pineapple, watermelon
PEACH BERRY PUNCH • 6.0%
Sour Ale • Peach Icee with notes of strawberry hard candy; Brewed with peach, strawberry, pink guava
TROPICBERRY TART DECO* • 7.5%
Sour IPA • Pink and blue Sweetarts, raspberry sorbet, tropical smoothie; Brewed with passion fruit, pink guava, raspberry
BERRY COBBLER TART DECO* • 7.5%
Sour IPA • Red Fruit Roll Up, blackberry sorbet; Brewed with raspberry, blackberry, strawberry, vanilla
HAZY BEERS & IPAS
MIDNIGHTS • 6.1%
Black IPA • Espresso foam, fruity chocolate, clean bitterness; Brewed with Simcoe, Cascade
SUN UP* • 6.5%
Hazy IPA • Pineapple push pop, mango smoothie; Brewed with Mosaic, Idaho 7, milk sugar
PICK ME UP • 6.5%
Hazy IPA • Fresh pineapple, OJ, Dole fruit Cup; Brewed with Citra, Cashmere, Cascade
MARINE LAYER • 7.2%
West Coast IPA • Berry, citrus pine; brewed with Centennial, Strata
LEAPS AND BOUNDS • 7.5%
Hazy DIPA • Tiki drink, blueberry, lil dank; brewed with Strata, HBC 586, Idaho Gem
LIGHT BEERS
TALEA LITE • 4.8%
Lager • Wonder Bread, zesty bitterness, beery beer; Brewed with Idaho 7, Cascade
STRAWBERRY VANILLA CREAM ALE: OLIPOP COLLAB • 5%
Cream Ale • Strawberry Creme Savers, bright acidity, vanilla milkshake
AL DENTE • 5.0%
Italian-Style Pilsner • Jasmine, toast, honey, herbs; Brewed with Tettnang, Saphir, Hersbrucker
WEEKENDER PEACH TEA • 5.4%
Lager • Floral, dry, notes of Peach La Croix; brewed with peach & black tea
SUPER SMOKY LAGER: FISHWIFE COLLAB • 5.7%
Lager • Summer BBQs, toasted crackers; brewed with Applewood-smoked malt
FALL BEERS
BASICALLY PUMPKIN • 5.2%
Autumn Ale • Light-bodied ale brewed with McCormick Pumpkin Pie Spice
EXPERIMENTAL BEERS
CUCUMBER LIME LAGER: BORDERTOWN COLLAB • 4.8%
Brewed with fresh squeezed lime juice and cucumber
SALSA LAGER: BORDERTOWN COLLAB • 4.8%
Brewed with heirloom tomatoes, fresh cilantro, and dried chiles
STRAWBERRY RUBARB TART DECO • 7.5%
Notes of strawberry Sour Patch Kids, strawberry rhubarb pie w/ whip
SLUSHIES
BLOSSOM BLAST
Fruity, floral and fresh! Berry Pomegranate Splash, gin, hibiscus simple, lemon
NON-ALCOHOLIC DRAFT
DAY TRIP • <0.5%
NA Lager • Toasted crackers, floral, hint of bitterness  
POM POM PARTY • <0.5%
NA Sour Ale • Purple Jolly Ranchers, fizzy goodness
TASTING FLIGHTS
$22 for four 4oz pours. Add 5th for $5
STAFF FAVES FLIGHT
Our team's top picks.
Al Dente Italian-Style Pilsner
Weekender Peach Tea Lager
Sun Up Hazy IPA*
Berry Pomegranate Splash Sour Ale
FRUITY & SOUR FLIGHT
An ombré flight of fruited sours.
Strawberry Vanilla Cream Ale
Berry Pomegranate Splash
Tutti Frutti Crush Gose
Berry Cobbler Tart Deco Sour IPA*
HAZY & HOPPY FLIGHT
Hops in a range of styles.
Pick Me Up Hazy IPA
Sun Up Hazy IPA*
Leaps and Bounds Hazy DIPA
Marine Layer West Coast IPA
Williamsburg - Other Beverages
COCKTAILS
BEERMOSA
Sun Up Hazy IPA + RGNY Sparkling Wine
NY NEGRONI
Greenhook Gin, Vermouth, St. Agrestis Bitter
GIN CRUSH
Greenhook Gin, Blackberry Lemon Crush, Lemon
MINT TO BE
Vodka, Watermelon Splash Sour Ale, mint
PEACHY KEEN
Rye, Peach Berry Punch Sour Ale, simple syrup
GARDEN 87*
No Alcohol Seedlip, Fever Tree Ginger Ale
WINES & CIDERS
ROSÉ CIDER - WÖLFFER ESTATE • 6.9% Draft
Crisp apple, wildflowers, refreshing acidity
BEDELL, ROSÉ - BEDELL, NY • 11.4%
Elegant, vibrant, reflection of maritime climate
SAUVIGNON BLANC - WÖLFFER ESTATE • 12.7%
Vibrant, drinkable, taste of the maritime terroir
BEDELL, MUSCADET - BEDELL, NY • 12%
Apple, citrus, an almost sea-like saline quality
COREY CREEK, MERLOT - BEDELL, NY • 11%
Light, Fruit forward, Aromatic, Smooth
SPARKLING WHITE - RGNY, NY • 11.5%
Citrus, Well-balanced, Kiss of peach, Fresh finish
NON-ALCOHOLOIC
AL'S
Non-alcoholic Lager
OLIPOP
Strawberry Vanilla Probiotic Soda
STRAWBERRY LEMONADE
KOMBUCHA Draft
BKE
COCONUT WATER
Vita Coco
SPARKLING WATER
Saratoga Springs
Williamsburg - Snacks & Plates
SNACKS & PLATES
Gluten-free crackers available upon request
SPICY NUTS
Cajun-spiced peanuts
SPICY PICKLES
Horseradish Pickle Chips *GF
GREEK OLIVE MIX
Kalamta, Mt. Athos, Mt. Pelion Blond & Black, Gordal, Nafpolin – GF
NUTELLA & PRETZELS
"Splits" hard pretzels, graham crackers, Nutella, Maldon sea salt
KIDS PLATE
Apples, string cheese, carrots, baked pita, hummus
BAVARIAN PRETZEL
10" Soft Pretzel, Dijon Mustard, Spicy Pickle Chips *Heads up! Our pretzels are fresh out of the oven, so we appreciate your patience. Trust us, they're worth the wait.

Hall's Beer Cheese
Nutella
THE MEDITERRANEAN
Hummus, Baked Pita, Carrots, Olives, Dried Fruit
THE PETITE CHEESE PLATE
Honey goat Gouda, Camembert, honey, Marcona almonds, spicy pickle chips, crackers, apple slices
CHEESE & CHARCUTERIE BOARD
Welsh cheddar, Honey goat Gouda, Camembert, jamón serrano, Brooklyn cured soppressata, dried fruit, crackers, apple slices
Cobble Hill - Draft
DRAFT MENU
Updated September 15th. Draft beers are highly rotational, please check back often for updates.
SOUR BEERS
BERRY POMEGRANATE SPLASH • 5.0%
Sour Ale • Grape soda, Nerds rope, berry compote; Brewed with raspberry, blackberry, pomegranate
TUTTI FRUTTI CRUSH • 5.2%
Gose • Hawaiian Punch, pink smarties, pineapple snow cone; Brewed with pineapple, watermelon, raspberry
BODEGOSE • 5.2%
Sour Ale • Red Gatorade, cherry ICEE, spicy pink peppercorn; Brewed with cherry, mango, pink peppercorn
PEACH BERRY PUNCH • 6.0%
Sour Ale • Peach rings, strawberry sorbet; Brewed with peach, strawberry, pink guava
BERRY COBBLER TART DECO* • 7.5%
Sour IPA• Red Fruit Roll Up, blackberry sorbet, begging for a la mode
TROPICBERRY TART DECO* • 7.5%
Sour IPA •  Pink and blue sweetarts, raspberry sorbet, tropical smoothie
GUEST TAP: DOGFISH HEAD BO• DE• GOSE • 5%
Sour Ale • Tart, fruity, quenching salinity
LIGHT BEERS
TALEA LITE • 4.8%
Lager • Wonder Bread, zesty bitterness, beery beer; Brewed with Idaho 7, Cascade
STRAWBERRY VANILLA CREAM ALE: OLIPOP COLLAB • 5%
Cream Ale • Strawberry Creme Savers, bright acidity, vanilla milkshake
AL DENTE • 5.0%
Italian-Style Pilsner • Jasmine, toast, honey, herbs; Brewed with Tettnang, Saphir, Hersbrucker
WEEKENDER PEACH TEA • 5.4%
Lager • Floral, dry notes of Peach La Croix; Brewed with peach, black tea
SUPER SMOKY: FISHWIFE COLLAB • 5.7%
Lager • Summer BBQs, toasted crackers; brewed with Applewood-smoked malt
HAZY BEERS & IPAS
MIDNIGHTS • 6.1%
Black IPA • Espresso foam, fruity chocolate, clean bitterness; Brewed with Simcoe, Cascad
SUN UP* • 6.5%
Hazy IPA • Pineapple push pop, mango smoothie; Brewed with Mosaic, Idaho 7, milk sugar
PICK ME UP • 6.5%
Hazy IPA • Fresh pineapple, OJ, Dole fruit cup; Brewed with Citra, Cashmere, Cascade
MARINE LAYER • 7.2%
West Coast IPA • Bright citrus, pine, green berries; Brewed with Strata, Centennial
LEAPS AND BOUNDS• 7.5%
Hazy DIPA • Tiki drink, blueberry, lil dank; Brewed with Strata, HBC 586, Idaho Gem
FALL SEASONALS
BASICALLY PUMPKIN • 5.2%
Autumn Ale • Brewed with McCormick Pumpkin Pie Spice
EXPERIMENTAL BEERS (LIMITED RELEASE)
CUCUMBER LIME LAGER: BORDERTOWN COLLAB • 4.8%
Brewed with fresh squeezed lime juice and cucumber
SALSA LAGER: BORDERTOWN COLLAB • 4.8%
Brewed with heirloom tomatoes, fresh cilantro, and dried chiles
STRAWBERRY RUBARB TART DECO • 7.5%
Notes of strawberry Sour Patch Kids, strawberry rhubarb pie w/ whip
SLUSHIE
THERE GOSE THE NEIGHBORHOOD
Bodegose Sour Ale, vodka, lime, hibiscus
NON-ALCOHOLIC DRAFT
DAY TRIP • <0.5%
Lager • Toasted crackers, floral, hint of bitterness
TASTING FLIGHTS
$22 for four 4oz pours. Add 5th for $5
STAFF FAVES FLIGHT
Our Team's Top Picks
Al Dente Italian-Style Pilsner
Super Smoky Lager
Berry Pomegranate Splash Sour Ale
Bodegose Sour Ale
SOUR & FRUITY FLIGHT
An ombré flight of fruited sours.
Strawberry Vanilla Cream Ale
Berry Pomegranate Splash
Tutti Frutti Crush Gose
Berry Cobbler Tart Deco Sour IPA*
HAZY & HOPPY FLIGHT
Hops in a range of styles.
Pick Me Up Hazy IPA
Sun Up Hazy IPA*
Leaps and Bounds Hazy DIPA
Marine Layer West Coast IPA
Cobble Hill - Other Beverages
COCKTAILS
BEERMOSA
Sun Up Hazy IPA + Da Mar Prosecco
LUCE DEL SOLE (SHANDY)
Al Dente Italian Pils, sparkling lemonade, St. Agrestis Amaro
TALEA SPRITZ
Pollinator Gin, Crimson Amaro, lemon, topped with TALEA Lite
NY NEGRONI GF
Greenhook Gin, Vermouth, St. Agrestis Bitter
GIN CRUSH Draft
Greenhook Gin, BLackberry Lemon Crush Gose, lemon
MINT TO BE
Vodka, Watermelon Splash Sour Ale, mint
WINES & CIDERS
ROSÉ CIDER WÖLFFER ESTATE • 6.9%
Crisp apple, wildflowers, refreshing acidity
KUMUSHA, CHENIN BLANC SOUTH AFRICA • 13%
Dry, Fresh Tropical Fruit, Vibrant, Rich Mouthfeel
DA MAR, PROSECCO VENETO, ITALY • 11%
Ripe Melon, Honeysuckle, Elegant, Friendly
LES DEUX MOULINS, LOIRE VALLEY ROSÉ (2021), FRANCE • 12%
Bright, fruity, perfect for Summer sloshing on the balcony
PERE MATA, CAVA BRUT RESERVA ROSÉ, (2019) SPAIN • 12%
Persistent bubbles, citrus driven, rose petals, creamy
ES OKAY, ORANGE WINE CALIFORNIA • 13%
Intricate Peach, Almond & Pistachio Flavors, Zingy Acidity, Lively
ALBERCICI, LAMBRUSCO ITALY • 11.5%
Unapologetic, crushed red berries, rhubarb, breath of fresh air
UPWELL, PINOT NOIR CALIFORNIA • 13.5%
Bright Cherry, Plum, Silky, Hint of Earthiness
NON-ALCOHOLIC
STRAWBERRY LEMONADE
OLIPOP
Strawberry Vanilla
RUBY
Sparkling Hibiscus Water
KOMBUCHA Draft
BKE- Rose
SPARKLING WATER
Saratoga Springs
Cobble Hill - Snacks & Plates
SNACKS & PLATES
Gluten-free crackers available upon request
SPICY NUTS
Cajun-spiced peanuts
SPICY PICKLES
Horseradish Pickle Chips *GF
GREEK OLIVE MIX
Kalamta, Mt. Athos, Mt. Pelion Blond & Black, Gordal, Nafpolin – GF
NUTELLA & PRETZELS
"Splits" hard pretzels, graham crackers, Nutella, Maldon sea salt
KIDS PLATE
Apples, string cheese, carrots, baked pita, hummus
BAVARIAN PRETZEL
10" Soft Pretzel, Dijon Mustard, Spicy Pickle Chips *Heads up! Our pretzels are fresh out of the oven, so we appreciate your patience. Trust us, they're worth the wait.

Hall's Beer Cheese
Nutella
THE MEDITERRANEAN
Hummus, Baked Pita, Carrots, Olives, Dried Fruit
THE PETITE CHEESE PLATE
Honey goat Gouda, Camembert, honey, Marcona almonds, spicy pickle chips, apples, crackers
CHEESE & CHARCUTERIE BOARD
Tickler cheddar, Honey goat Gouda, Camembert, prosciutto, Brooklyn cured soppressata, dried fruit, apples, crackers